[LisaFAQ]
>
[Lisa Software]
>
[MacWorks]
4.6.5.1. What are the characteristics of MacWorks Plus II?
MacWorks Plus II is the last of the operating environments developed for the Lisa. It provides an operating environment similar to the Macintosh Plus 128K ROM, with the following features:
Compatibility up to System 7.5 (the last system that will run on a 68000 processor)
Support for up to 12.5 MB of RAM (more than 4MB requires an XLerator)
Many bug fixes since MacWorks Plus
MacWorks Plus II includes the Programmable Frequency Generator daughterboard that provides these features:
real-time adjustment of floppy disk controller to allow reading almost all 400K and 800K Macintosh floppy disks
serial ports clocked at the same speed as the Mac Plus for greater compatibility
256 bytes of non-volatile EEPROM (retains Macintosh PRAM settings while Lisa is unplugged)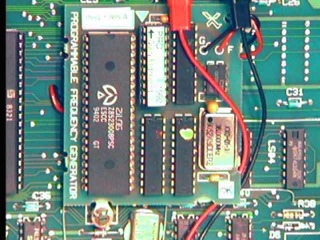 ( image courtesy of http://lisa2.com )
System 7 Notes
Doing something useful with System 7 almost always requires more than 2 MB of RAM

With a CPU board modification, you can use two 2MB memory boards to get 4MB
Using an XLerator, up to 12.5 MB is possible, depending on the model and SIMMs used
File Sharing

Serving files requires an XLerator (the stock 5 MHz CPU is not fast enough to implement the protocols)
The AppleShare client works with or without an XLerator
All versions of MacWorks Plus II work with or without the screen modification kit.
[LisaFAQ]
>
[Lisa Software]
>
[MacWorks]
(Comment on this answer)